March 31, 2021

PropMix Admin

0
NEW YORK, NY / March 31, 2021 / – PropMix.io a real estate analytics & artificial intelligence company with solutions for lenders, appraisers, and realtors, today announced a new partnership with SFREP a leading solutions provider for the appraisal market.  This partnership will enable appraisers to seamlessly access PropMix's Profet.ai – an appraisal analytics platform directly from SFREP's Appraise-It Pro forms platform. 
Appraise-It Pro, is SFREP's flagship product in its fourth generation with a modern and intuitive design built on Microsoft's latest Windows technology. Its focus on speed, ease of use, and appraiser productivity have enabled Appraise-It Pro to set a new standard for sleek and thoughtful design that is extremely powerful and yet easy to learn and use.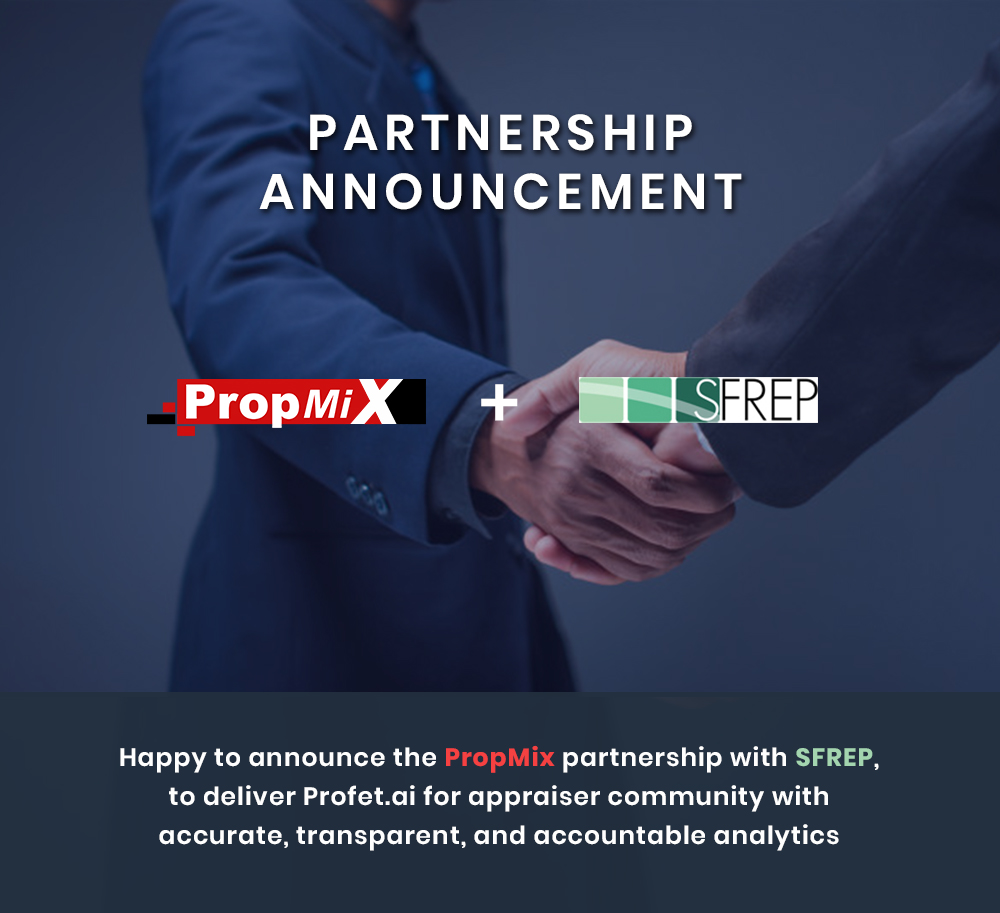 Access to Profet.ai from within Appraise-It Pro provides appraisers a one-stop shop for all their appraisal report creation needs across data, analytics, and industry compliant forms. "Our integration with PropMix will help the appraiser community with a single integrated platform," said Wayne Pugh, Founder and CEO of SFREP, Inc. "We look forward to delivering further value to the community leveraging PropMix's AI and analytics capabilities."
Profet.ai provides a unique appraisal analytics platform where appraisers can focus on the analytics instead of data gathering. Profet.ai provides built-in access to MLS data, public property records, images, deed and listing history, and granular housing market trends to help appraisers conduct deeper analysis for property valuation. 
With this integration SFREP customers can now seamlessly search for comparables from their MLS, research history, run inventory and market analysis, adjust valuations, and generate the appraisal report all without leaving Appraise-It Pro. "We are excited to provide Profet.ai as a direct plugin within Appraise-It Pro – one of the leading brands of appraisal forms software in the industry," said Umesh Harigopal, CEO and Co-Founder of PropMix. "Our goal is to empower the appraiser with accurate, transparent, and accountable analytics."
About SFREP
Since 1983, SFREP has been dedicated to producing the highest quality, easiest-to-use appraisal software and backing it up with the best customer service in the industry. No matter the job, office or department, everyone here at SFREP has one primary focus: You. With offices in Baton Rouge, Louisiana; Greenville, South Carolina; and Sylva, North Carolina and customers from Guam to the U.S. Virgin Islands, SFREP has the resources and expertise of a large company. But, we're small… and we like it that way. For more than 35 years, we have been serving the real estate appraisal community as an independent company with the friendliness, integrity, and personal responsibility we learned from growing up in the South. Give us a try to see why our customers consider us family.
About PropMix
PropMix.io LLC, is a real estate data, insights, and solutions company with deep experience in commercializing Artificial Intelligence. PropMix's platform and solutions are widely used by mortgage lenders, appraisers, realtors, and investors. Built on industry open standards and with intuitive user experience, PropMix's solutions for the appraiser and lender market empower users to seamlessly engage with data and insights to understand collateral risk, assess appraisal complexity, and make valuation decisions. PropMix was founded in 2016 and is headquartered in New York. http://www.propmix.io