April 29, 2021

PropMix Communications

0
NEW YORK, NY / Apr 29, 2021 / – PropMix added OneScore to its flagship product for appraisal analytics – Profet.ai leveraging its nationwide real estate data and insights platform. OneScore helps appraisal management companies (AMCs)  and lenders assess the complexity and risk in a home valuation before accepting or assigning the appraisal. 
Lenders, Appraisal Management Companies (AMCs), and appraisers have to comply with TRID – TILA/RESPA Integrated Disclosure Rule where loan cost estimates provided to a borrower can be modified only under special circumstances. In addition, they need to match the best appraiser for a valuation assignment based on experience and expertise. OneScore provides a ready to use and easily interpreted score to understand the valuation complexity, which  is also a leading indicator of valuation risk in a property and is an important tool for mortgage underwriters to assess collateral risk.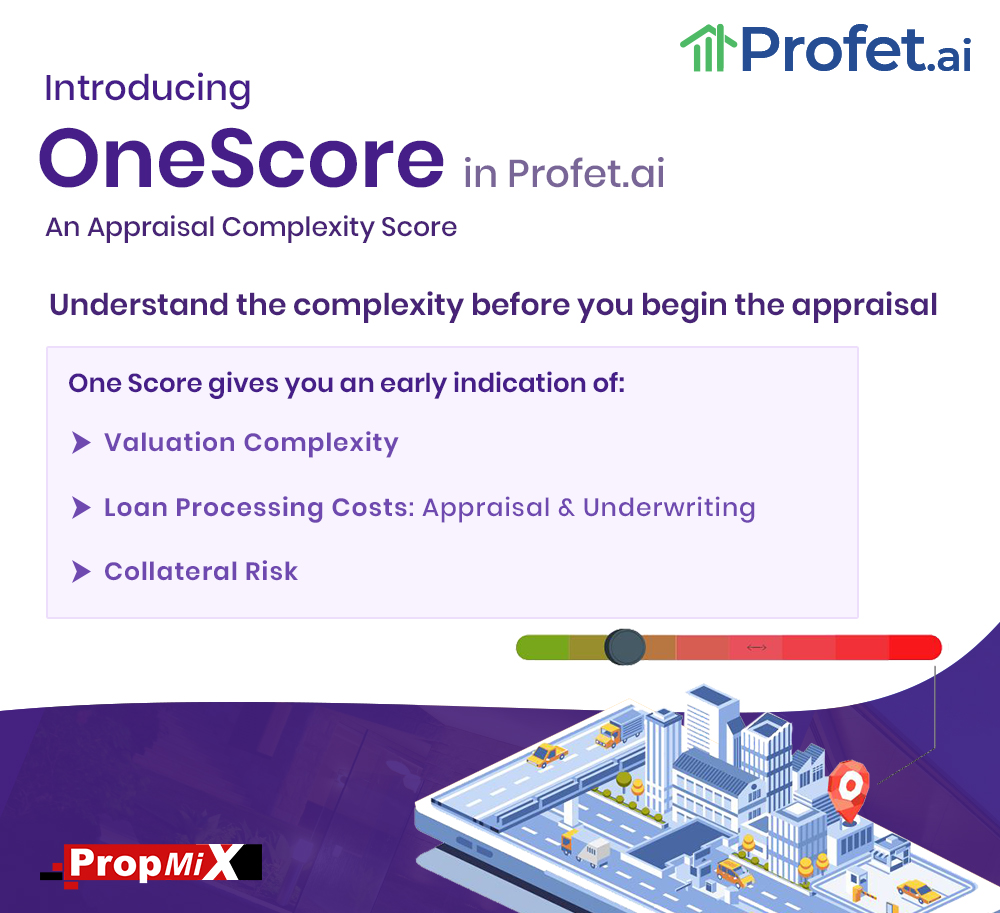 OneScore delivers a fully automated analysis that uses statistical and machine learning models to accurately predict the complexity and the related risk in a valuation. "Understanding the intricacies of a home valuation upfront is important to streamline our appraisal workflows." said Neeraj Kesarwani, Senior Project Manager at Opteon Solutions an international appraisal services company. "OneScore will help simplify that by providing a complexity score and supporting that with the necessary detail."
OneScore is completely integrated into the Profet.ai platform and hence it is automatically available as an add on to all AMC and lender customers. "We are continuing to round out the valuation analytics space with a singular goal of augmenting the appraiser's toolbox", said Umesh Harigopal, CEO of PropMix. PropMix is also working on additional capabilities such as flood data, flood maps, and plat maps to add to the Profet.ai product along with additional features for appraiser collaboration.
To read more, visit: https://www.appraisalbuzz.com/propmix-adds-ai-powered-onescore-to-the-mca-appraisal-analytics-platform/
About PropMix
PropMix.io LLC, is a real estate data, insights, and solutions company with deep experience in commercializing Artificial Intelligence. PropMix's platform and solutions are widely used by mortgage lenders, appraisers, realtors, and investors. Built on industry open standards, PropMix.io empowers users to engage with data, make decisions using insights and build the real estate technology of the future. PropMix was founded in 2016 and is headquartered in New York. http://www.propmix.io