April 4, 2023

PropMix Admin

0
PropMix's Appraisal Digitization now powers Tavant's Touchless Lending® platform
NEW YORK, NY / April 4, 2023 / – Tavant, a leading provider of AI-powered digital lending solutions for the consumer lending industry, today announced expanded functionality within its Touchless Lending® platform through a new partnership with PropMix, a fast-growing real estate valuation, decision support, and automation platform.
As part of the partnership, PropMix's Appraisal Digitization capabilities to convert residential appraisal PDF documents into standard MISMO XML is integrated into Touchless Lending using PropMix's APIs. Tavant's customers can now seamlessly process first-or second-generation (scanned) appraisal PDFs with no manual interventions. The result is an automated loan production process that lets correspondent buyers and sellers and wholesale lenders process mortgages faster with reduced costs.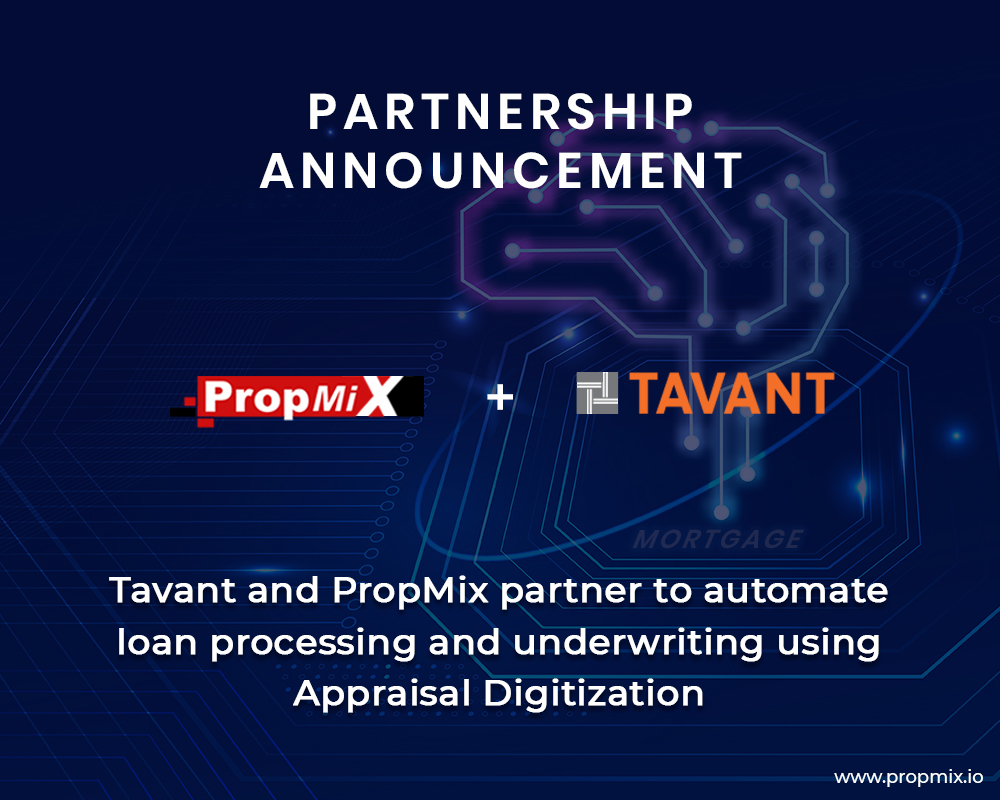 Tavant's Document Analysis product within the Touchless Lending platform completely transforms the document-intensive mortgage origination process by automating recognition, classification, indexing, splitting, extracting loan data, and eventually, contextualizing this data for algorithmic processing and associating it with the borrowers on the loan. "PropMix's Appraisal Digitization platform has helped us accelerate our product offering with a simple API interface to the complex process of extracting reliable data from appraisal PDFs," said Mohammad Rashid, Head of Fintech Innovation at Tavant. "This partnership helps Tavant vastly improve (and for some cohort of loans, remove) the underwriters' loan review process within the Touchless Lending loan manufacturing pipeline."
Appraisal Digitization from PropMix combines image processing, deep learning, OCR, and real estate valuation knowledge to deliver an accurate and consistent service to transform PDFs of various quality levels and different standard appraisal forms such as single-family, condo, or multi-family appraisals. "We are excited to work with Tavant to power their digital lending solutions for the industry," said Daniel Mancino, EVP at PropMix. "Digitizing and extracting data from appraisal documents is an integral part of our appraisal modernization strategy."
PropMix specializes in implementing AI and machine learning models for extracting data from unstructured sources such as documents and images and integrating such data with its comprehensive housing market and public property data to deliver business solutions for mortgage, valuation, and real estate sectors.
Headquartered in Santa Clara, California, Tavant is a digital products and solutions company that provides impactful results to its customers across North America, Europe, and Asia-Pacific. Founded in 2000, the company employs over 3000 people and is a recognized top employer. Tavant is creating an AI-powered intelligent lending enterprise by reimagining customer experiences, driving operational efficiencies, and improving collaboration.
PropMix.io LLC is a real estate data, insights, and solutions company with deep experience in commercializing Artificial Intelligence. PropMix's platform and solutions are widely used by mortgage lenders, appraisers, realtors, and investors. Built on industry open standards and with an intuitive user experience, PropMix's solutions for the appraiser and lender market empower users to seamlessly engage with data and insights to understand collateral risk, assess appraisal complexity, and make valuation decisions. PropMix was founded in 2016 and is headquartered in New York. http://www.propmix.io